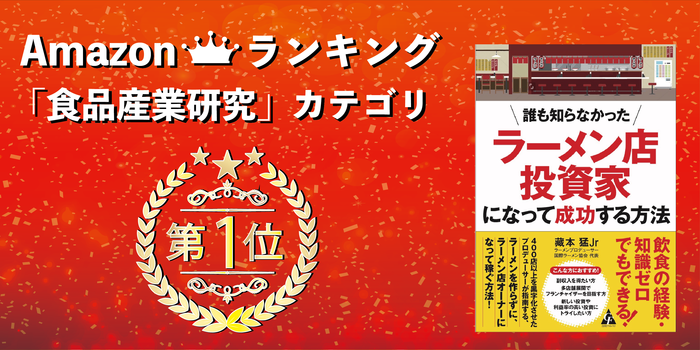 Thanks to you, we won the 1st place in the ranking! !
"How to become a successful ramen shop investor that no one knew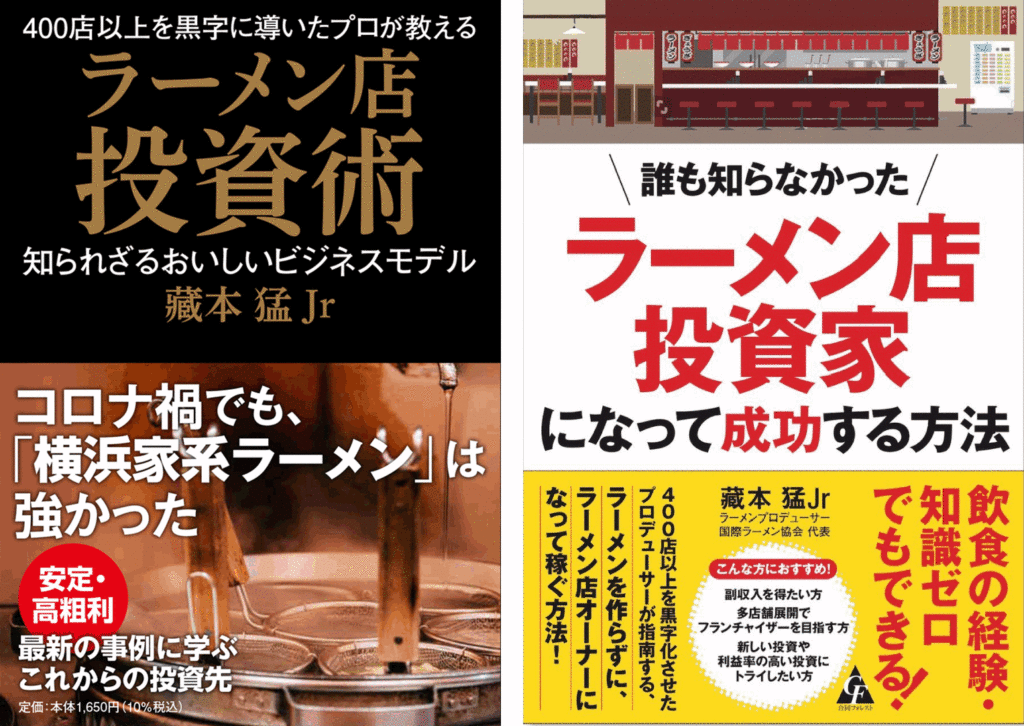 "How to become a successful ramen shop investor that no one knew about", which was released on October 3rd, has won first place in the food work research category of the Amazon book ranking!
It was also ranked 12th in the investment/financial category.
Thank you to everyone who purchased!
This book explains the know-how to become an owner who invests in a ramen shop and get a reward.
It introduces various cases and explains investment in ramen shops using charts and illustrations, so it can be used as a reading material.
It's easy to understand and easy to get.
「This book recommends becoming an owner and earning unearned income. That's what "investment" means.」

(Excerpt from this book)
This is a must-read for those who want to challenge new investments, those who want to have their own shop, and even a little bit of interest!
【Index】

Chapter 1 Both Japanese and foreigners love ramen
Chapter 2 Ramen shops open 300 shops a month
Chapter 3 Ramen restaurants are profitable, investment in ramen restaurants is even more profitable
Chapter 4 How is ramen restaurant investment different from other investments?
Chapter 5 I don't make noodles or soup. Leave everything to us!
Chapter 6 I will teach you how to expand your investment in ramen shops
Chapter 7 Why do celebrity shops go out of business?
Chapter 8 Until I produce 400 ramen shops
Reviews from people who have actually read the book
「An experience story that breaks common sense from the perspective of investing in a ramen shop, which is different from how to open a ramen shop or how to start an individual business. It was a good read.」
「This book can be read smoothly even if you are not familiar with management or the ramen industry, and anyone can implement it depending on their ideas and action. If you feel like stepping into a new path, please read it once, and if it appeals to you, I think you should try it.」
「I just wanted to run a ramen shop as a franchisor. From that thought, I was able to meet him in just one week. The book is so easy to read that I read half of it.」
「I came across this book when I was wondering how to increase my assets. It gives me a sense of security to be able to open a store without training myself, and to have the author give me advice on a regular basis. I thought it was good that I had my eyes on a ramen shop among various restaurants.」
「I don't think there has ever been a book that connects ramen shops, investments, and these two points. It briefly describes how the ramen shop will be opened and managed. Why don't you open this book once by all means? I think it will open up new perspectives.」
In addition, we are always available for lectures and new consultations, so please contact us using the "Inquiry Form" below.